Feeding grounds for 'Volkswagen of the ocean' to be protected off Cape Breton – Local Xpress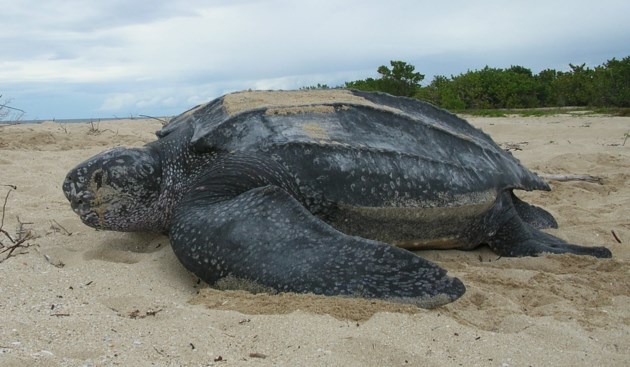 The federal government is moving toward creating a marine protected area east of Cape Breton on the Eastern Scotian Shelf.
The regulations laying out how the proposed St. Anns Bank Marine Protected Area off Scatarie Island will be managed will be published Saturday in the Canada Gazette, according to a note Fisheries and Oceans Canada sent out to organizations that participated in consultations about the proposed area that will be the first designation of its type in Atlantic Canada under the Oceans Act, and a step toward fulfilling the country's commitment of protecting five per cent of its marine areas by 2017 and 10 per cent by 2020.
"Comments on the proposed regulations will be accepted during a 45-day public comment period that will conclude on Jan. 30, 2017," said the note, sent out Friday.
The proposed regulations can be viewed at http://canadagazette.gc.ca/gazette/sp-pe-fra-eng.php.
"Also included is the regulatory impact analysis statement, which provides an overview of the proposed regulatory approach, consultation and feedback to date, and the anticipated costs and benefits of this initiative," says the note.
St. Anns Bank, which covers an area of about 4,300 square kilometres and extends out almost all the way to the boundary between Nova Scotia and Newfoundland, was announced as a place of interest for an Oceans Act marine protected area in June 2011.
"It's about five times larger than Cape Breton Highlands National Park, so it covers a significant area," said Chris Miller, national conservation biologist with the Canadian Parks and Wilderness Society.
Leatherback sea turtles, a species at risk, frequent the area, feeding on jellyfish, Miller said.
"They're huge. It's often referred to as the Volkswagen of the ocean."
St. Anns Bank also contains a number of deep-sea corals and sponges, he said.
"The diversity of ecosystems there includes different types of marine habitat. So there's the shallow shelf habitat. Then there's the productive slope habitats where you get a lot of upwelling and where a lot of the fish abundance tends to occur. And then you've got some of the deeper water channel habitats through the Laurentian Channel."
While he's still reviewing the thousands of pages of proposed regulations, Miller said his understanding is the area will be off limits to oil and gas exploration and development, as well as bottom trawling.
"Those are the types of activities which would be most damaging to the conservation values of St. Anns Bank and they're not going to be allowed in that site and that's something that we welcome," he said.
It looks like DFO has created three zones in the area where some existing fishing activities will still take place, Miller said.
"In the regulations, they're described as fisheries that use pots or rod and reel," he said. "It would include things like snow crab, lobster and halibut. The sorts of things that have less of an impact on the habitat than bottom trawling would have."
The length of time it has taken to get St. Anns Bank designated a protected area has been frustrating, Miller said.
"The negotiations with all the different stakeholders and groups was concluded in 2013," he said. "It's now approaching the end of 2016 and a lot of that time these regulations were stuck in Ottawa at various desks and departments."
If the federal government continues to designate these sites as protected on a site-by-site basis, Canada won't reach its targets on time, Miller said.
"We won't even come close," he said. "Fortunately what the Department of Fisheries and Oceans is now doing, rather than picking one site and taking seven years to designate it, they're looking at the region as a whole and are designing what's called an MPA network plan. So it would be a plan that includes multiple sites that are designed to capture the diversity throughout the region, rather than just focusing on one site."
Miller said he's noticed over the past year that the federal government has placed a much higher priority on creating new marine protected areas.
"St. Anns Bank was stuck in this government purgatory for three or four years after the negotiations were completed," he said.
Fisheries Minister Dominic LeBlanc "unstuck that," Miller said.
"It's a really complicated process. But that said, it still shouldn't take three or four years to be able to go through all through the various internal government approvals."
A few months back, the province put out a request for proposals looking for new research on the oil and gas potential for the region, Miller said.
"But in the documents that went out there was a map that showed where the future MPA was going to be located," he said. "So there's an interest, but this is certainly not an area of the highest oil and gas potential."
Industry did raise concerns about the northern boundary of the marine protected area, he said.
"Through that process, DFO agreed to reduce the boundary on the northern side, but then extend the boundary on the southeastern side to lessen impacts on oil and gas and fishing, and then to provide the compensation for conservation on the southern side of the protected area," Miller said.
First Nations sat down with industry representatives, academics, conservation groups, and people from the federal and provincial governments to hammer out the area to be protected.
"There really was a lot of give and take at that table," Miller said. "I don't think anyone got everything that they were asking for. But, in the end, I think some fair compromises were made."
Protecting a chunk of the ocean can encourage fish numbers to increase outside the boundaries of that area, he said.
"It's referred to as the spillover effect," he said.
"If there's an added benefit of a marine protected area through increased fish numbers, then that's a good thing so long as there's sufficient habitat actually protected in order to maintain those fish population numbers."
Feeding grounds for 'Volkswagen of the ocean' to be protected off Cape Breton – Local Xpress.
Source: Feeding grounds for 'Volkswagen of the ocean' to be protected off Cape Breton – Local Xpress